SEAΔ 2020-21 – Making new relationships and co-creating online
Three SEAΔ 2020-21 Fellows, Khin Thethtar Latt (Nora) – a multimedia artist based in Yangon; Soran Sorn – a storyteller lives in Phnom Penh, Tassakorn Seepuan (Jump) – a multidisciplinary artist based in Chiang Mai and Nan, are working with their partner, Biotrade Project Manager Sisavan Phimmasan from Helvetas Laos, on the CREATE stage of their fellowship. Their group focuses on Luang Prabang province (northern province) Lao PDR where small communities gather Benzoin resin – a vanilla scented resin used widely in fragrances and flavors which is mostly grown in the mountainous regions of Laos – to supplement their income.
---
For the members of the group, joining SEAΔ is one of their first experiences working with other cultural practitioners in a regional project.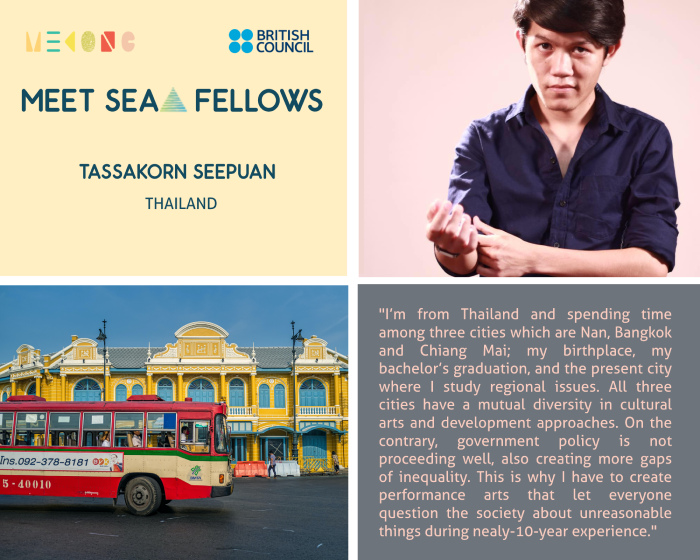 To join SEAΔ for Jump is a totally new experience which brings both challenges and opportunities. First he has to familiarize himself with online meetings. "For offline meetings, when the discussion is heated up, you can go outside, smoke, and have coffee to cool yourself down. But in online meetings, everyone stays very focused so I have to. It made me feel so stressful at first," shared Jump.
Language barrier is one of the biggest contributors to the pressure of working in an online project. While English is used as the common language for the group to exchange their ideas, different interpretations might happen all the time due to too many accents and the difference of cultural and professional backgrounds. However, the more the fellows work together the more relaxed their meetings become. "It was such a relief when I found out that I was not the only one who misunderstands something." shared Jump.
Time is also a challenge for big group meetings. To have everyone speak up their ideas means everyone needs to be quick. And knowing that the other is watching your makes you feel nervous. When they break to small group meetings, everything feels more relaxing, more friendly, casual, and honest.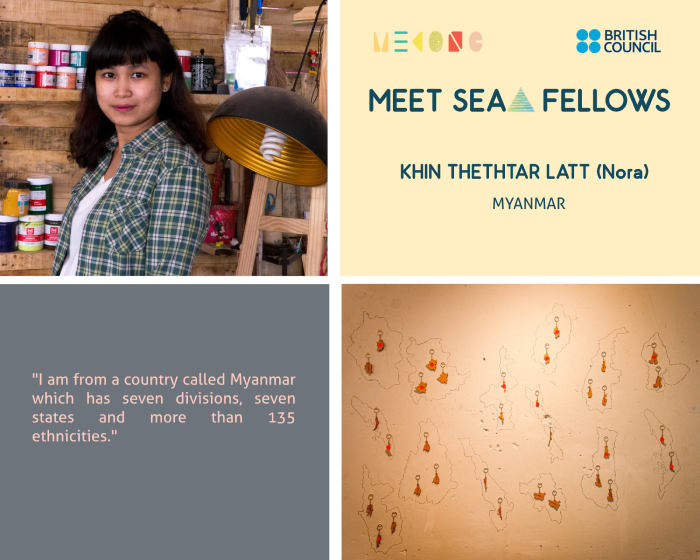 What makes me makes you proud the most is the recent years are: Even COVID period, I produced some photo series and developed some new projects as well; I can still survive during stressful times. I am starting my Master Degree.
– Khin Thethtar Latt (Nora) –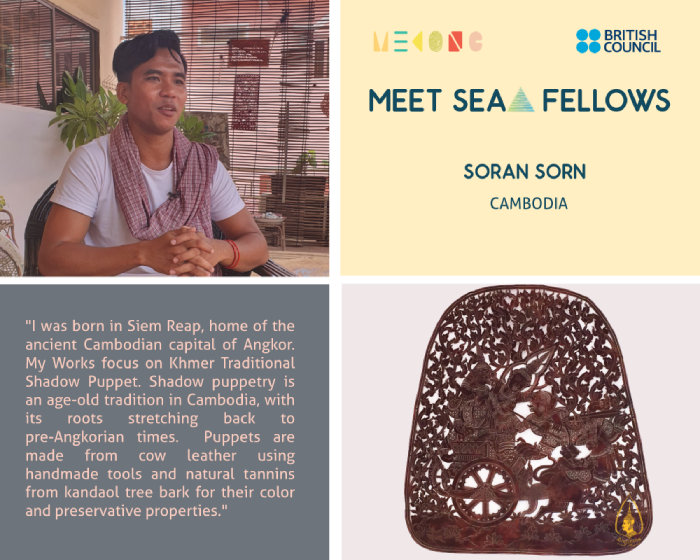 For me, art is about building connections and sharing new ideas, particularly with the younger generation, that is why I keep working this art form to promote khmer culture to the world. Art makes me more aware of the value of life as an artist. – Soran Sorn –
Like other two SEAΔ groups whose projects are in Vietnam and Myanmar, the challenge for them this year is that they have to conduct their work online with the support of their partner, Sisavan, the Biotrade Project Manager of Helvetas in Laos. Their project focuses on the Benzoin product in Luong Prabang.  Sharing about the process of working together, Jump said: "The first meeting of the group might be quite confusing for us because we brought in too many topics from SDG, sustainable goals, Bio-trade product in Laos, to art contribution to the society, etc." Each member came up with one topic of their concern. Nora focused on Laos folk tales, Soran was interested in Puppet stories about Laos culture, while Jump wanted to work with objects." 
Through discussions, they gradually find a way to link with each member's personality and profession. Working together helps each member broaden their mindset to think or to be concerned about something bigger, to be aware of the different cultural backgrounds and political situations from different countries. During the process, they can learn not only from each other's individual professions but also from practical advice of experts. For Jump, to work as a team, the most important thing is to find a common goal, to spend time listening to each other and to find out what everyone agrees on.