Meeting Point behind the screen
From May 20 to 22, MCH hosted Revealing Contexts: A Meeting Point on Art & Social Action in Asia,  in partnership with AAM and more than 10 organizations, 10+ groups hosting small gatherings in their local area and more than 40 curators, speakers and other contributors. The program offered a chance for many practitioners interested in Art & Social Action across Asia to connect and exchange, with nearly 300 registered participants over the 3 days.
In the following interview, we would like to invite you to talk with the MCH team, to look at the program from behind the screen, and discover their vision when initiating the Meeting Point program, and how they managed to make it happen.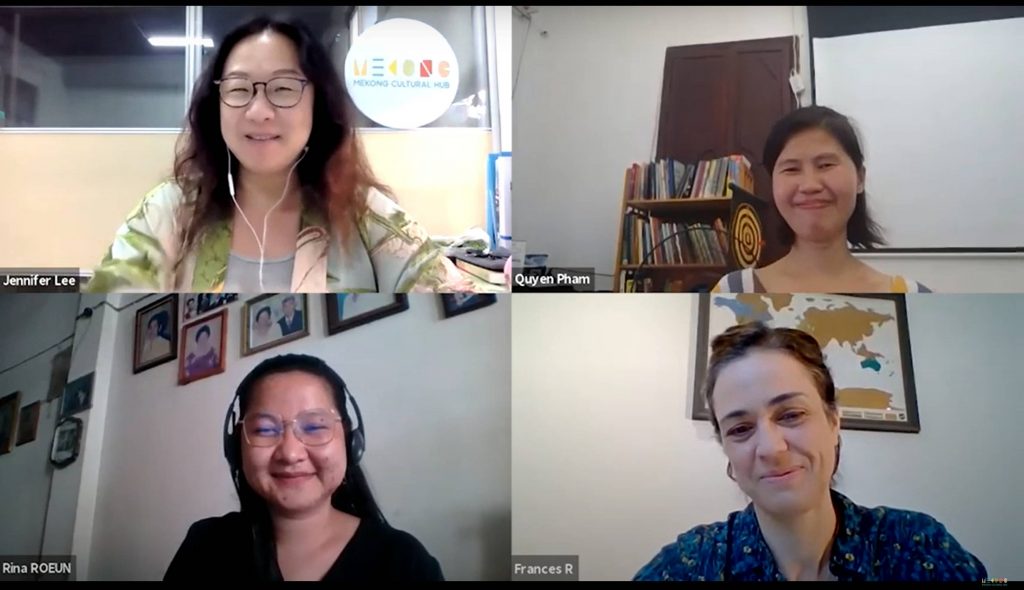 What plans and intentions do you have to make the Meeting Point different from countless other online programs taking place around the world?
Jennifer: "What for" has become the most frequent question for me, in my professional work and personal one, in recent years. Being trained and developed as an art manager or say in doing cultural project management work to support artistic or cultural works happen, I have been through too many projects and work that I was responsible for getting them done successfully. There are guidelines to evaluating the success, for example, satisfying the clients, performing all requirement/conditions in the contract well, accomplishing the key performances if there are written or listed KPI(s), guaranteeing my boss could get the agreed contract fee and the clients are happy to contract us again, selling more tickets of the performances, getting more released on mass media… at the end of the day, I asked myself "what are these for?"
All the programming, projects, and implementations require certain skills and experiences to have "well accomplished" or "successfully done" outcomes, which I am considered to have enough capacity. Seldom I was asked and communicated with the "why" of all diverse forms of projects I had done. I find the value in what I have been working in the field of theatre and culture because I need the why and I need to know the core value so I could navigate my actions or even skill development or knowledge learning.
To me, the concept of Meeting Point has been cooked and discussed from countless reflections on experiences in all MCH programs with Frances for almost more than 2 years with my blabbering but at least candid talking, and I/we have found that we need more and more time in discussing and working together. Frances is always able to give and make my rambling come out with clear and persuasive structure for us to develop programs based on the constant challenging ourselves with "what is this for?" "What did the programs cope with or support what we aimed for?" "do we dare to be not typical and conventional ones if they do not serve the why well?"
Some kind of blurring mode and the central concept was becoming a bit clear from the conversation I had with Janet in Siem Reap Feb 2020 when I shared some reflections we have had making us hesitate in those typical methods of designing or implementing programs we know well. Frances and I were so excited about her wise suggestion, time and time, and we found some direction out of her response to our reflections and uncertainty.
Online or onsite could simply be merely a medium/way of implementing what you want to do. Be clear of the why and be modest and to learn to use the medium are two key guiding principles for programming Meeting Point. The "why" here is not my personal value but MCH's value, however, luckily as a staff of MCH, I share the value with MCH and the whole team.
I think that Meeting Point is the output from the everlasting collective reflections MCH team has had(and most of them we learnt from the fellows, networks, advisors, partners….) and we felt the urgency of doing programs reflecting our learning, observation and eagerness to realize our vision even if we need to be experimental and open, which might be causing uncertainties, difficulties, challenges BUT also possibilities for more.
What were the most challenging parts in running such a program?
Rina: It is a bit of a challenge for logistic coordination for the production team since we worked long distances and virtually. Therefore, our team needed to be well prepared beforehand; for example, production team did several run-throughs among our team and panelists to be well prepare for technical error and well understood the content and the flow of the workshop.
The most difficult thing to manage was internet quality from the host and presenters, most of the time it was out of our control, sometimes we couldn't play video smoothly as we expected and so on.
It is an international event so another challenge was a different time zone for panelists and participants, as organizer we tried our best to remind people to convert our event schedule to their local time zone. Luckily, our team has prepared for the worst scenario to minimize the error. 
Quyen: I joined MCH team in December 2020, when the preparations for the Meeting Point were already going on. Curated Conferences, Case Studies and other programs are underway. My task was to prepare a promotion plan for MCH in general, with a focus on Meeting Point in particular. My biggest difficulty at that point was that I did not understand about MCH, nor did I understand anything about Meeting Point. But over the course of my work with MCH, I gradually realized the important working strategies of the team which are:
Firstly, for every project, MCH will play a Broker role to connect people, and draw out the very general ideas for the program as a whole – and give the maximum freedom to each participant or a group of participants to decide on their own event. Thus the detailed program would always be decided by the participants, and is flexible to be changed at the last-minute, all MCH members always put themselves in a position of being ready for discussion and choosing the most optimal organization method based on participants' final decision. This is quite a challenge for me in terms of building a communication plan. How could I tell people about an event, no matter how good I know it would be, without any specific information at hand? Many promotion plans for the program I proposed to the team had to be changed because they were not feasible.
Secondly, MCH has always been focusing on respecting the experience of the live attendees to its programs. Much of the content I need to collect for media use won't be available, because in order to get that information from participants, we'll have to impose a deadline which might be too early for them to be ready for making a decision. Moreover, once the information has been published, the event structure would be shaped, which will limit their freedom to change and come up with a most suitable program until the last minute. And part of the reasons for confidentiality is to ensure the safety of many participants with particularly sensitive circumstances such as those from Myanmar and Thailand.
During the preparation time for the program, what is the most memorable moment for you? What makes you enjoy it? What significant difficulties have you faced and how did you overcome them?
Jennifer: We were not doing things we have completely exercised but comparatively different because we do not find existing formats that meet our aims and focuses. This is exciting because we follow the value and the calling, as a hub for cultural practitioners to realize their vision of a better life for their communities and societies. This is also scary when we know something happened because we did not consider certain aspects well enough in implementing nor able to predict what issues are not revealed yet but they spoke later on. In general this was such an enjoyable experience and remarkable journey and so many people walked side by side, including my colleagues and the participants who shared similar values and vision. The imperfection was there but the perfection of solidarity was even more clear and on top of any challenges occurring. I can not say which one is particularly unforgettable but I could say due to the solidarity so much beyond my expectation, I do not see what difficulty to be overcome or not overcome becoming a question, it is about staying with the why and deal with whatever comes along with. I guess that we do feel sorry when we know there were things could be prepared more or communicated longer and deeper but we did not, when there was anyone felt uncomfortable coming from the different exprecations or ways of working even that was the nature in co-productions and collaborations with people from diverse background, localities, disciplinaries, contexts or personalities, but I think we do feel positive that all these were so valuable as learnings we could get and that none given up……aren't the people we worked with just amazing and creative and open for impacts coming from trying unfamiliar things and actions?!
Rina: The joyful moment during the preparation stage was our team spirit, no matter what challenges we faced, everyone kept calm, open-minded and dealt with it beautifully. We did support each other to make the event possible, run smoothly and meaningfully.
Quyen: If I remember correctly, in a weekly team meeting in early February, Frances told the team that, given the situation, we would definitely have to organize the Meeting Point online. Once the decision was made, none of us had time to be disappointed, because there were contingency plans for Plan B that needed to be implemented to make the online Meeting Point possible.
In addition to our meetings once every week to update each other about the work progress, we set up another weekly meeting just for discussing the Meeting Point to deal with many problems that arise due to the worsening COVID situation in many Asian countries, especially India, and Southeast Asia. One week before the program happened, our meetings took place on a daily basis. Without my consciousness, I had gradually gotten used to the MCH's way of working and found out that online meetings are no longer an obstacle. This is perhaps because all of our meetings always follow the MCH's spirit, which is to avoid anything formal, and always try to create the best experience for the participants.
We had many meetings that lasted for several hours, and only finished until Frances announced that everyone should rest, and that the discussion should continue the next day, but none of us seemed tired and needed a break. Typically, two days before the Revealing Context Roundtable was scheduled to take place, the whole city of Taipei was put on alert as new COVID cases spread. We were forced to cancel the only in-person event that the team was trying to make efforts to. And the day before the official event, we realized, all Zoom rooms for the Virtual Meeting Point were set up for a maximum number of attendees of 50, while the number of registrations to some events are over 200. The whole team had to work together until midnight to fix the technical problems.
And how do you feel when the program actually happens?
Rina: It was very exciting and I needed to be ready to execute the plan that had been prepared for more than 6 months. We have followed 80% and our team has played a very important role to be flexible and capable to respond to the current situation and fulfill another 20% of the achievement.
Quyen: Until the Meeting really happened, my experience working with the team is still unbelievable! It's hard to believe that with such a small team we could do such a job, and it's hard to believe that I have the honor to be a part of the team.
———————
Share with us your experience of participating in our Meeting Point here!