Save the date to join Meeting Point 2022!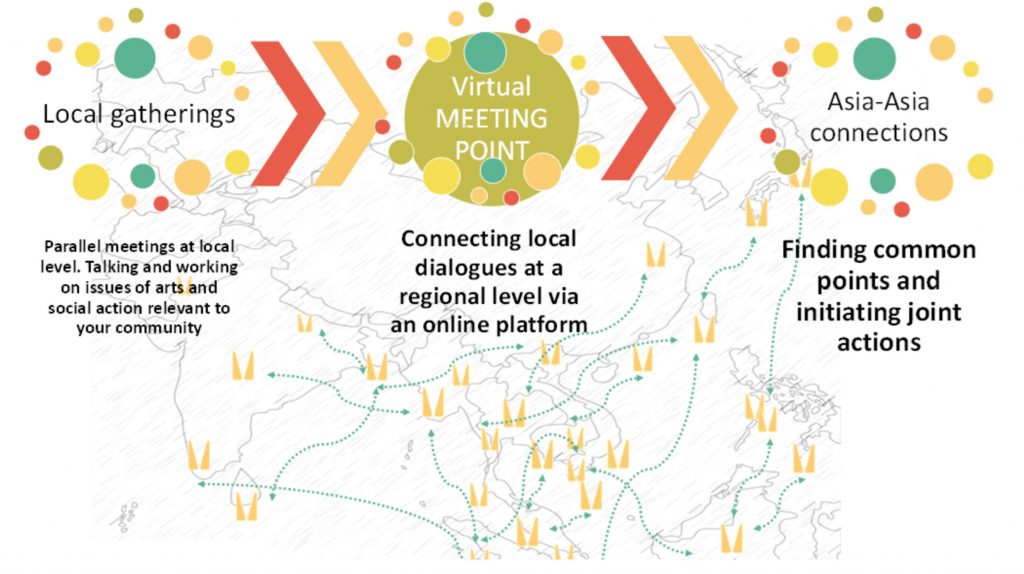 FROM CONNECTION TO COLLABORATION
A Meeting Point on Art & Social Action
in Asia

October 20-29, 2022
Revealing Contexts: A Meeting Point on Art & Social Action in Asia was a collaborative effort of Mekong Cultural Hub, in partnership with Asia Arts Management (AAM). It created a space for people to exchange ideas, experiences and best practices, get new inspiration and connections with potential partners to take their work forward. The program was originally planned to take place both online and onsite in May. However, many events were postponed due to COVID situation which gave us an opportunity to meet each other again in a mini-Meeting Point in July.
Emerging directly from the sessions at last year's Meeting Point, this year's theme is From Connection to Collaboration. We regularly hear from our Fellows and our networks that they want to 'do' things together, but how do we ensure that such collaboration is meaningful, equitable and serving a community beyond those individuals directly involved? Is collaboration an outcome or a process? If we want to work collaboratively, what are the foundations that need to be put in place and what kinds of attitudes do we need to nurture, what kind of structures do we need to unlearn?
The full program for From Connection to Collaboration: A Meeting Point on Art & Social Action in Asia will be published on September 15th 2022. Stay tuned for more updates!