Local Gathering 2022: Announcing this year's Local Hosts
We are very excited to announce 15 Local Gatherings selected from 34 applications to take part in the Meeting Point 2022!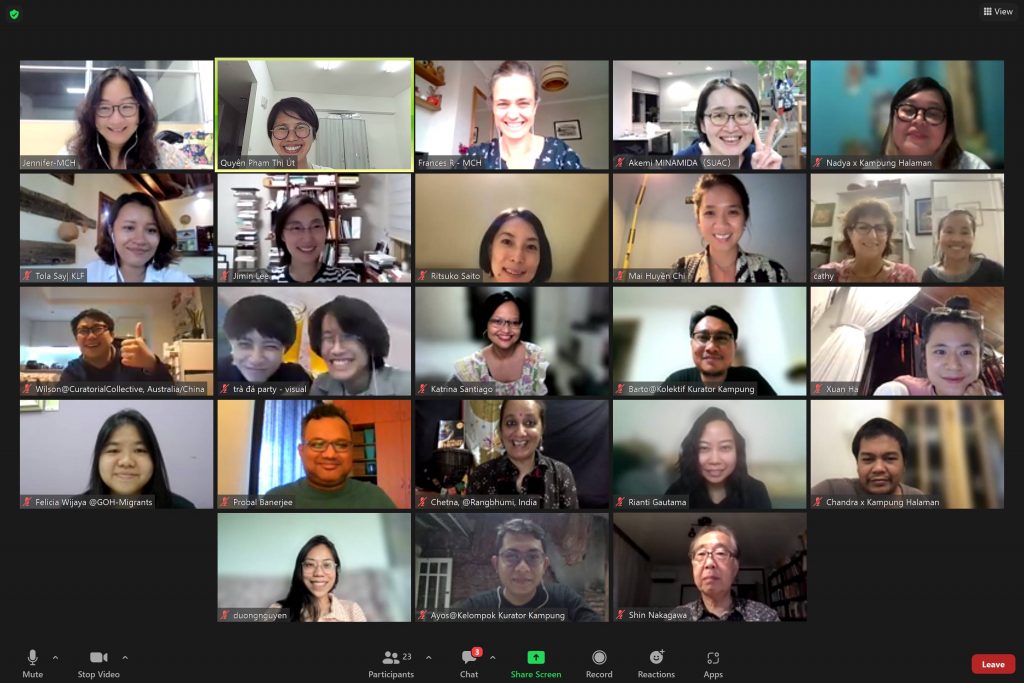 All selected Local Hosts met for the first time at the
'Local Gathering: Hosts Networking & Exchange' organised by MCH place on June 30th.
We received more proposals than we were able to support with the financial and human resources that we have available. So we had to make a selection from all the submissions.
Our decisions took into account not only the quality of the proposal (see below), but also having diversity in the themes, the art forms, communities and locations reached. We considered this important not only for the events to be organised during the Meeting Point, but for the networking part of the program between the organisers.
With regards to the proposals themselves, the ones that we selected tended to have the following qualities in common:
· Clear and simple concept at the heart of the gathering (a clear reason to meet)
· Identified clearly the communit(ies) who would gather
· Either worked towards building a community within a sector or practice where people need to be more connected, OR specifically wanted to build bridges between sectors (either sub-sectors within the arts or between arts and other sectors)
· Clearly explained the link to the theme of Connection to Collaboration
· Seemed practical and feasible to organise
We would like to congratulate the following organisers who have been selected to participate in our Local Gathering this year:
· Khmer Literature Festival (Pursat, Cambodia)
· Wilson Yeung + Sherry Liu (Huaniao Island, China and Melbourne, Australia)
· D.epicentre (Bangalore, India)
· Chetna Mehrotra + Roshan Karkera (Mumbai, India)
· Gayatri Nadya Paramytha and Kampung Halaman Foundation (KH) (Jakarta, Indonesia)
· Kolektif Kurator Kampung (KKK) and Kolektif Hysteria (Surabaya, Indonesia)
· Akemi MINAMIDA + Ritsuko Saito + Yusuke KAZAMA (Hamamatsu-City, Japan)
· Jimin Lee (Seoul, Korea)
· Catherine O'Brien + Luck Phongsavath (Vientiane, Laos)
· i:cat gallery (Brgy Poblacion, Makati City, Philippines)
· Garden of Hope (Taipei, Taiwan)
· Krisarat Wongworanet (Khonkaen and Bangkok, Thailand)
· An.other Asian (Ho Chi Minh City, Vietnam and London, UK)
· MORUA, Time Between and Gãy Collective (Ho Chi Minh City, Vietnam)
· Mai Huyền Chi (Can Tho, Vietnam)
We are happy to see many of this year's Local Hosts are returning Hosts from Meeting Point 2021 with fresh ideas. We invite you to meet with two of them, Sherry from Melbourne and Felicia from Taipei, and listen to what they have to share about why they decided to join this year program and their plan for the upcoming events:
In the Meeting Point 2021, Felicia co-hosted the local gathering 'Myth, Legend, and History: Stories from Our Homes' which invited students from South-East Asian countries to discuss the cultures and history from their home countries. The event aimed to reveal the context and raise awareness of cultural diversity.
In the Meeting Point 2021, Sherry collaborated with Wilson Yeung to organise Life Mapping, a Local Gathering that invited Longyu Garden Community residents to have a field revisiting (Xuzhou, China) and used art rubbing and embroidery techniques to create an art mapping. The event was followed by a showcase taking place in Xuzhou, China, and an online panel discussion.
—————-
Local Gathering 2022 is a part of the Meeting Point 2022 which will take place from October 20th – 29th. Follow our website and social media channels for more updates!
Please also note that we have an ongoing platform MCH Open Space, so if you feel that could be a useful way to start some conversation – even if on a different scale or different style than the local gathering, we would welcome you to get in touch.