Creative connections & collaborations via the Meeting Point program: Echoes from the Stars
This year at Meeting Point, we have two programs where audiences can Create & Share as part of the program. One of these is a new digital installation, Echoes from the Stars, which is being launched especially for Meeting Point audiences. The development of Echoes from the Stars has been a process over 6 months, with the MCH team not only supporting the project as commissioners, but collaborating with the artists and some of our other fellows on interpreting the content for other Asian contexts and languages. Some short reflections on this multi-layered collaboration follow below.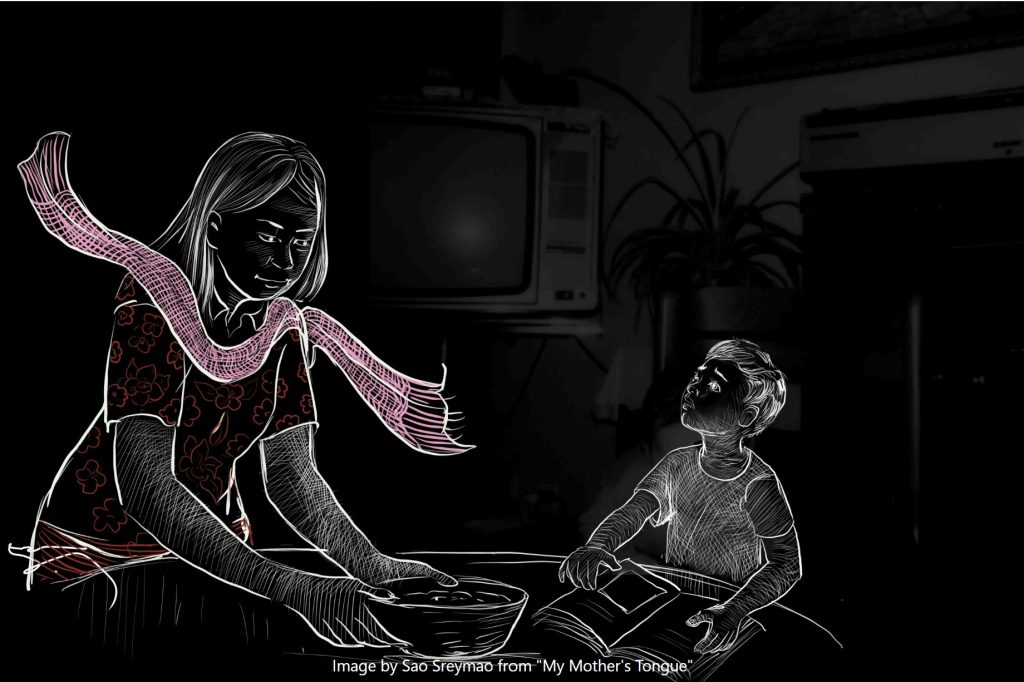 Q: Frances (FR), why did MCH decide to work with Jean-Baptiste Phou (JB) to develop Echoes from the Stars for the Meeting Point program?
FR: As the Meeting Point is a place for arts and culture practitioners to meet and connect, it's very important that the program includes creative and artistic forms of expression. Since first drafting up the program elements a year ago, we had blocked space for some 'creative action'. We wanted that action to be a way that people could feel solidarity through a shared act of creative expression, sharing space even though they cannot meet up in person. And we wanted the work to help open up the themes of connection and collaboration, in the context of cross-cultural cooperation in Asia.
When we learned that JB was starting to think of developing an installation as a follow-on to My Mother's Tongue, and wanted that to reach an international audience, we asked him if he wanted to explore it by launching it at the Meeting Point. Having experienced JB's work I felt it would be a perfect fit. As an artist he has a talent for telling a very specific story, highly personal and deeply rooted in its particular context, but telling it in a way that even as someone from a totally different life experience, you find your own connection to it, both intellectually and emotionally.
It has been very special to have the chance to support the development of Echoes from the Stars and I can't wait to see how the Meeting Point community engages with what JB and his collaborators have created.
Q: Jean-Baptiste, why did you want to develop this work within a framework of regional connection and collaboration?
JB: When I heard about Meeting Points organised by MCH, I thought it would be the perfect occasion to launch it, especially because it will connect people from different countries and contexts within Asia, interacting through the same artwork. I am so grateful that MCH commissioned and helped me develop the project!
Because of the technological component, I needed to find collaborators in that field. Through MCH's network, I got connected with different teams in Taiwan, Macau and Thailand, while I was also outsourcing in Cambodia. After I saw Thai digital artist Theerawat's work and talked with him, I felt a strong connection on both personal and aesthetic level.
We started working together remotely, exchanging back and forth. I even flew to Bangkok to work directly with him and his technical team. I learnt so much during the process!
Beyond the technology aspect of the artwork, despite the distance and language barrier, at the core, it's really all about the human connection. This whole 'connection to collaboration' project truly reflected that. I can't wait for the audience to join us in this journey!
Q: Quyen and Jennifer, you both collaborated on a deeper level in this project by working on translating the script of My Mother's Tongue (which will be screened on October 20th) into your own first languages. Can you tell us what that experience was like?
Quyen: My Mother's Tongue tells a very personal story of JB and his relationship with his mother's tongue, Khmer, the language he has never been taught by his mother. My family has never been separated from our home country, and at home we share only one language: Vietnamese. I could never understand exactly JB's envy of the "children who spoke just one language – that of their parents, because in my family I don't "get help with homework" as JB thought, most of the time I deal with it by myself. And we didn't "discuss all sorts of things at home" as he imagined either. In our family, we barely talked. The generation gap makes us speak two different kinds of Vietnamese. The mother tongue I was taught by my parents, plays a double role, a bridge as well as a barrier between us just as his Khmer does between him and his mom. So when translating My Mother's Tongue into Vietnamese, I did actually not only translate the text from English into Vietnamese, but translated JB's feelings and memories into my own.
Jennifer: When I watched the film some months ago, it opened up my own stories with my father, a high school teacher who joined the army and caught into the diaspora so he left his hometown China to Taiwan without knowing that he would not go back for 40 years… When I was a kid, I never really totally understood and accompanied his sorrow and I did not listen to his stories carefully. The translation work I did was like a journey with JB, his mother, their stories and gaps, and later on it became mine with my father. I wondered so many unspoken memories, loss, sorrow of my father that I did not care or know enough and why do I seem to feel them and know what they are now? This journey healed my regret and allowed me to embrace my father and my ignorance again. I am no longer lost in regret, instead I am in love with what my father passed to me, those with or without speaking.
———
ABOUT THE PROJECT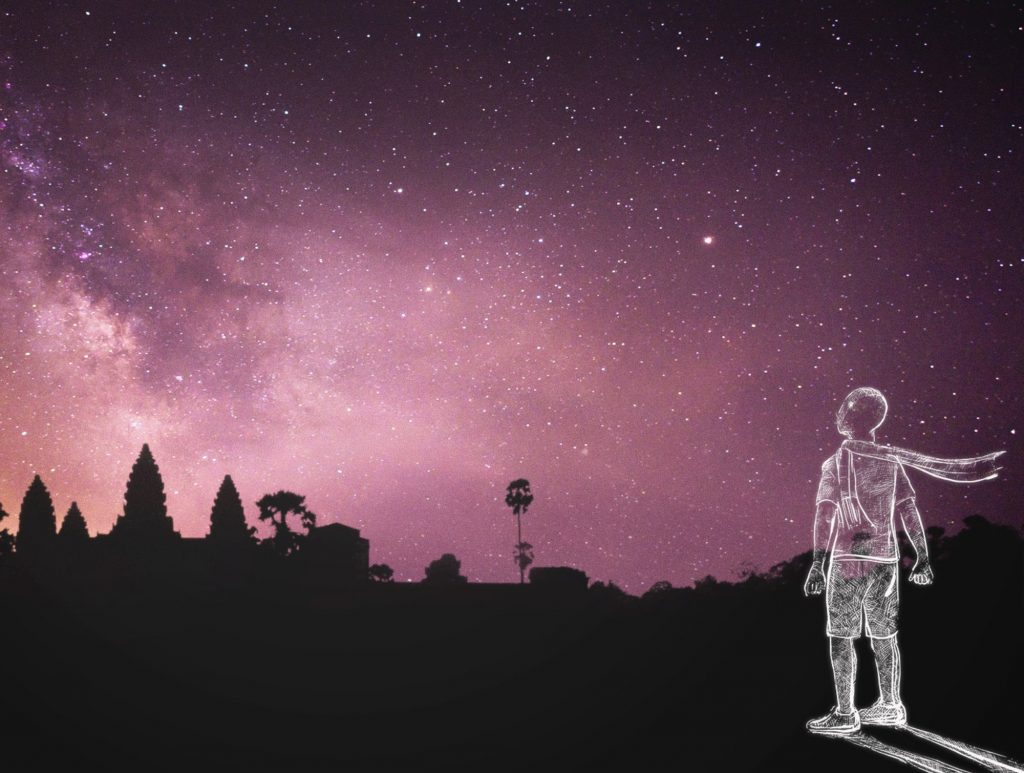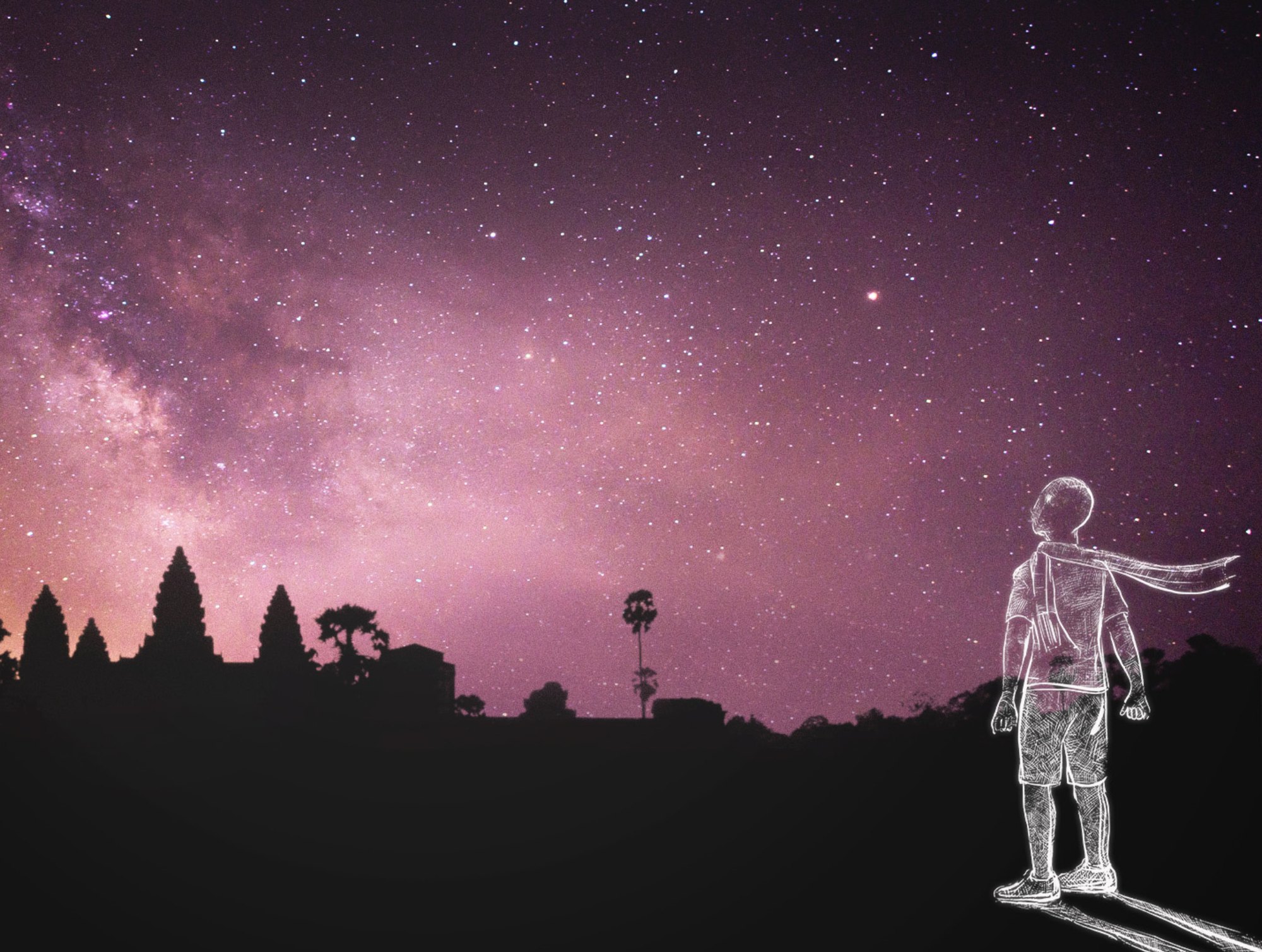 Echoes from the Stars is a participatory digital installation, inspired by audience responses to art-film My Mother's Tongue, about communication issues between a mother and a son. During Meeting Point you can watch the film, create and share your own contributions to the installation, and explore the resulting art work.
Featuring: Jean-Baptiste Phou, Theerawat Klangjareonchai; with images by Sao Sreymao and design by Jean-Sien Kin
Languages: French, English, Khmer, Burmese, Laos, Thai, Vietnamese, Mandarin
Translation support by: Nwet Kaykhine, Chanmaly Panyaphone, Narumol Thammapruksa, Jennifer Lee and Pham Ut Quyen