Perspectives from the Grassroots: Celebrating Community Spirit
Continuing the discussion on the 2024 Meeting Point's theme, "Perspectives from the Grassroots," Madhura Dutta (India), Chen Yoke Pin (Malaysia) and Lê Xuân Tùng (Vietnam), three other participants of the Curated Conference, share their unique interpretations of the theme, which are deeply intertwined with community engagement. Their reflections delve into the intricate web of connections, traditions, and values that bind individuals together.
Read on to discover their stories.
Story from: Madhura Dutta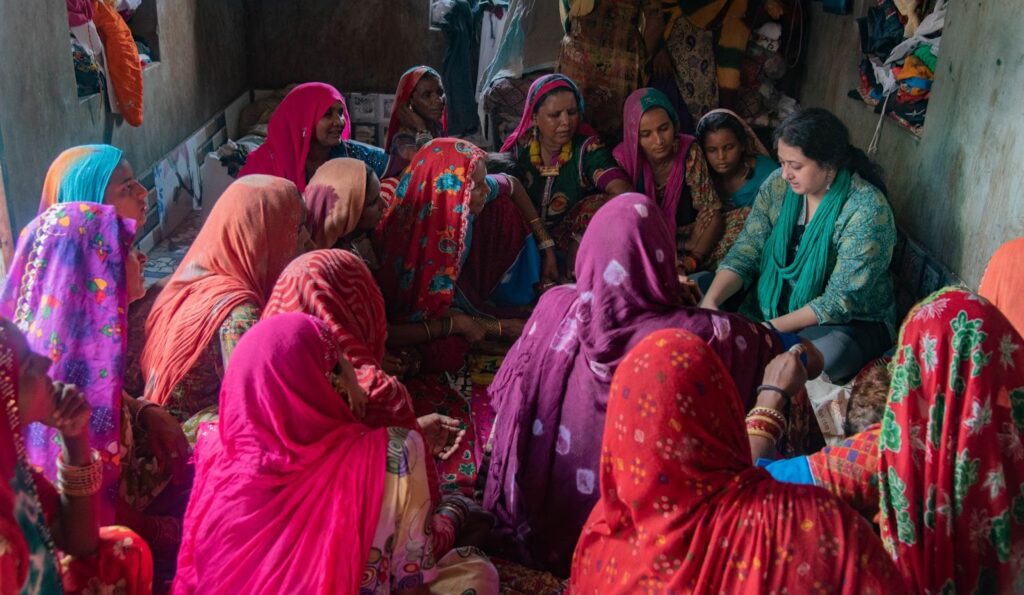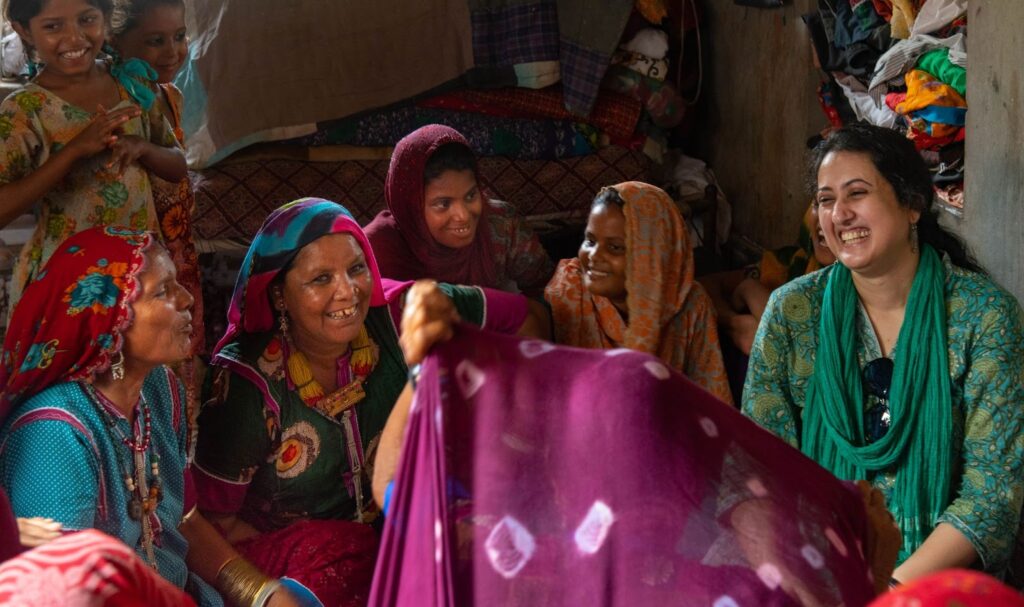 The pictures were shot from my field work in Barnawa Jageer village of Barmer district, Rajasthan, India. The village is famous for traditional music of the Langa community unique to this region, and is home to more than 200 professional Langa musicians.
The women seen here are the main custodians of this tradition, although they do not sing in public. They pass on hundreds of traditional songs orally to their children at home!
When working with grassroots communities, building relationships and trust are the key to community participation and ownership of the process of change. And establishing that collaboration starts with meaningful engagement, heart-to-heart talk and respecting each other. Our smiles in the picture say it all!
Story from: Chen Yoke Pin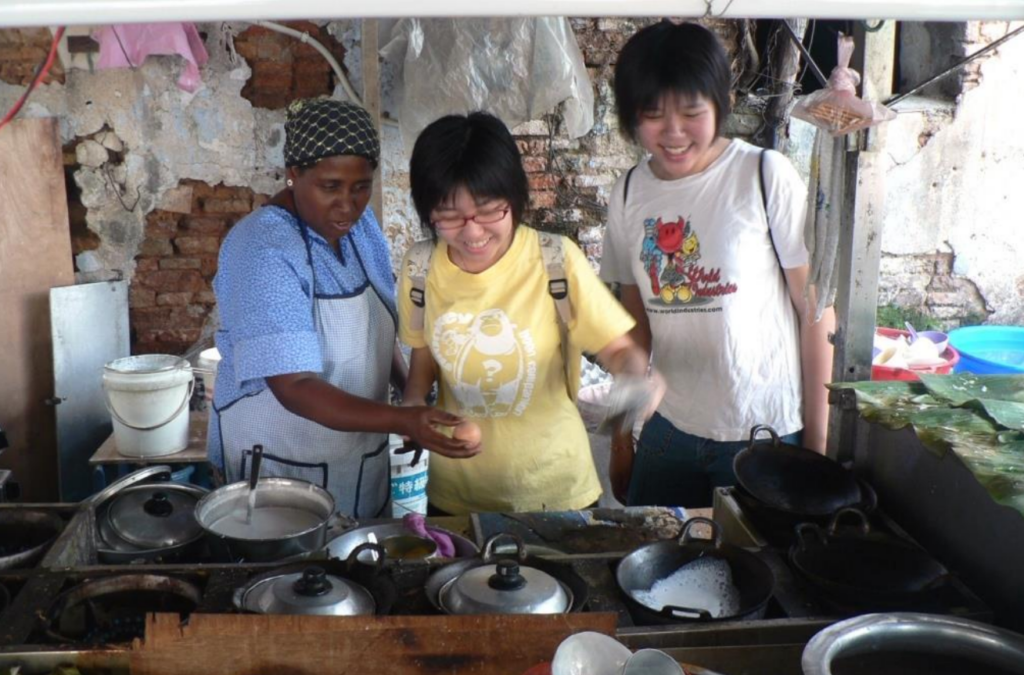 I often view my role as a cultural worker as that of a connector and bridger. I provide a platform for people from diverse backgrounds to come together, interact, and learn from one another. These individuals may share the same geographical community but have not had the chance or incentive to engage deeply despite their intersecting daily lives.
In Malaysia, where the majority of people reside within their own linguistic and cultural groups despite being part of a multicultural nation, I've initiated arts education programs to facilitate intercultural and intergenerational exchanges. Through this approach, community members who possess local expertise in various skills and crafts share their knowledge with young participants. These participants, in turn, document and research this shared wisdom and subsequently present it back to the community.
This exchange is mutually beneficial. Dialogues and discussions unfold, addressing existing cultural knowledge, practices, values, and the potential for evolutionary changes to be passed down to the next generation.
Regarding intercultural interactions, each cultural group has unique adaptations and legacies that often go unexplored by others. This platform enables participants to understand and appreciate these nuances, discovering both commonalities and differences in cultural practices. This exploration fosters a process of self-identity discovery, delving into profound questions about one's culture and its deeper meanings beyond mere daily practices.
Story from: Lê Xuân Tùng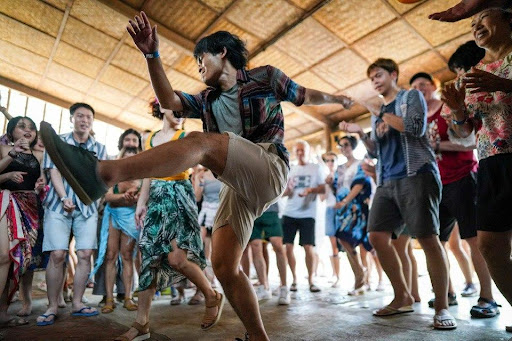 The photos are of me at Vietnam Lindy Exchange 2023 in Hoi An, which just took place this March. It's my first dance exchange event, and the first time I dance swing in a place with so many people (around three hundred) that also share the love for the dance with me. The picture is taken in the midst of the jam circle, with HAT Jazz Band doing a pulsating instrumental break, inviting people to show off their best dance chops. As you can see, I jump in the middle, and while my lines are not good, my moves could be better, but I was completely in the moment, and it was nothing short of magical to overcome the fear and share the love with surrounding dancers. These moments are why swing dance exchange exists, and they have been around for 20 years as a sustainable form of cultural exchange for people involved with the niche art form. During my time with the Meeting Point Fellowship, I would like to bring these experiences and further the conversation on a sustainable model of grassroot art organisations in South East Asia, fostering cultural exchanges and art practices in the region.
—
Madhura Dutta, Chen Yoke Pin, and Lê Xuân Tùng are three of 10 participants who joined our Curated Conferences Program as a part of the 2024 Meeting Point. To prepare for their public sharing at the 2024 Meeting Point, they are meeting every month from June to December to discuss two topics: Life Cycles of Grassroots Cultural Organizations in Asia and Hitting Pause: Examining Purpose & Practice. Please follow our website and social media for updates on the program.