Hitting Pause: Examining Purpose and Practice
CURATED CONFERENCES 2023-4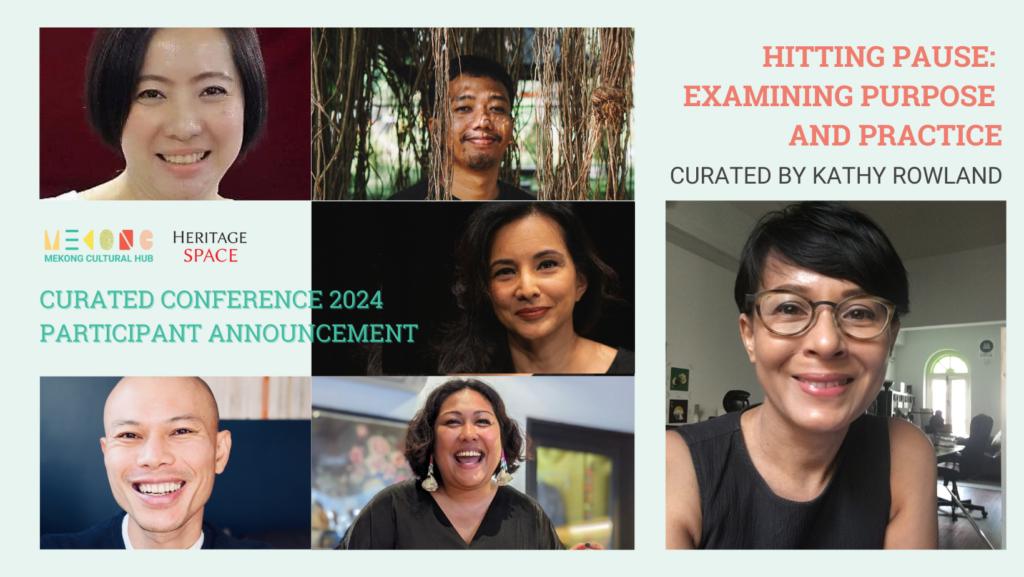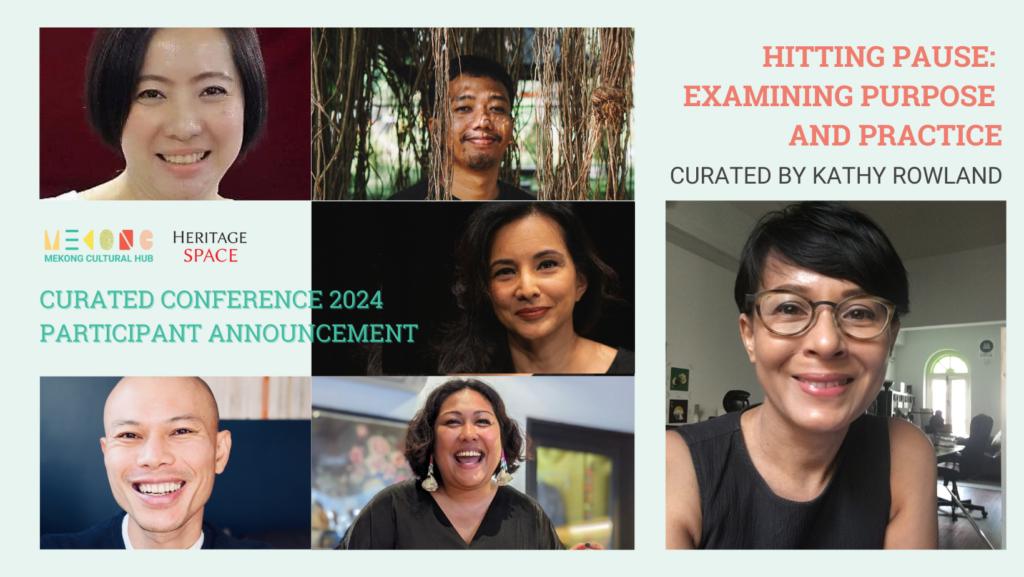 Curated Conferences
The Curated Conference program is part of Meeting Point. The next Meeting Point will take place in March 2024, with an in-person gathering in Hanoi from March 21-23. The aim of this program is to create space for diverse cultural practitioners to discuss and explore topics that concern them, and to be able to share the outcomes of their discussions with a wider public audience. There are two topics for this year's conference program, Life Cycles of Grassroots Cultural Organizations in Asia, curated by Phloeun Prim (Cambodia) and Hitting Pause: Examining Purpose & Practice, curated by Kathy Rowland, Arts Equator (Malaysia/ Singapore). Each group includes five Fellows, who expressed interest in exploring these themes. From June until December 2023, the Fellows meet online approximately once per month, for a series of conversations facilitated by their Curator, starting from the prompt statement shared in the program overview, and evolving with the inputs of the group. During January and February 2024, the Fellows and their Curator will focus on preparing the content and format for the public sharing sessions they will host during the Meeting Point on Art & Social Action in March 2024.
ABOUT THE TOPIC
The desire to effect social change through art motivates many practitioners across Southeast Asia. Arts groups and individuals are creating –works, which directly or indirectly, address gaps in their communities. —
More often than not, the problems they want to alleviate demand urgent attention. At the same time, the Southeast Asian arts sector itself suffers from limited resources. There never seems to be enough funds, time, skills and opportunities to fully implement ideas, no matter how innovative they may be.
In such an environment, activities are often designed to solve immediate needs. Practitioners get caught in a cycle of servicing their stakeholders, moving from one programme cycle to the next. Burn-out follows. There is little time leftover to investigate the root causes of the problems facing their communities. Upon scrutiny, some activities, no matter how impactful, are palliative rather than restorative.
Hitting Pause: Examining Purpose and Practice is a safe space for arts groups and individuals to interrogate their own organisations, programs, activities, and ideas, as well as those of their fellow participants.It is an exploration about individual practices through a process of sharing, listing and co-learning.
Yet, its larger aim is to try to identify the key questions that everyone in the sector needs to stop and ask themselves before getting caught in the next cycle of service.
Discussion questions include:
● How does it feel to bear responsibility for a growing organization?
● What are the different decisions you have to face and how do you decide how to navigate them?
● How do you build an organisation beyond its founder?
● What are the influences in the ecosystem that shape, and constrain, how arts organizations develop?
● How do you keep your organization relevant?
● Differentiating your personal purpose and the mission of your organization
CURATOR
Kathy Rowland is the co-founder of ArtsEquator, a charity dedicated to supporting and promoting arts criticism with a regional perspective in Southeast Asia. Kathy has worked in the arts for over 25 years, running arts and culture programs and arts media platforms, with a special interest in artistic freedom of expression.
PARTICIPANTS
Activities