BRIDGE BUILDING EXCHANGE: The Significance of Visual Documentary
Visual documentaries, both film and photography, are a powerful storytelling medium that can spark debate, raise awareness, and even result in social change. As artists and social practitioners who use film and photography as materials for their creative practise MCH Regional Representatives (MCH REPs) Lattapol Jirapathomsakul (Thailand), Htoo Lwin Myo (Myanmar) and Jerome Wang (Taiwan) invite audiences to "The Significance of Visual Documentary" – a discussion on Social Impact of Visual Documentary in an attempt to create dialogue and exchange views.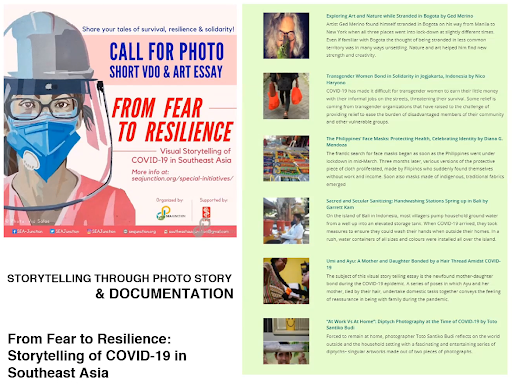 Lattapol begins the discussion by describing some of the projects he has worked on that use photography to create a social impact. Aside from taking photos as a hobby, he currently works as a Program and Communication Officer at SEA Junction where he is involved in the visual documentation projects: (1) resilience during COVID-19 and (2) Mekong River. The first one aims to show the different sides of the pandemic by collecting photos taken over the course of two years by photographers, artists, as well as anyone who would like to submit their works. Documentation is often thought to be a tool for recording the major historic events. This archival project conveys the concept that history is composed of each moment in every person's life. Each time anyone takes a photo or records a video, they are documenting the history of their time.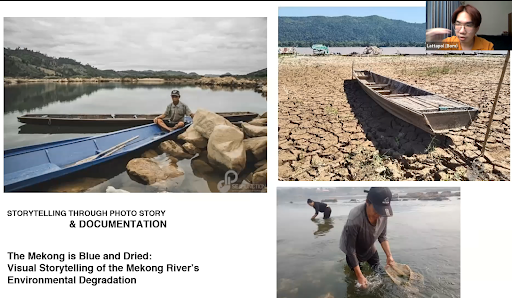 Another project is an archival visual collection about the environmental degradation of the Mekong river. The initiative remains as an important data and visual archive available to complement local communities and civil societies' work that has been collecting data on the ground and advocating to save the Mekong. The photo and art essays with explicit case studies along with powerful visual images have raised awareness and yet appealed to a sense of injustice which perhaps help mobilize further support for advocacy. The photos collected over time can clearly reveal drastically the river is changing by time.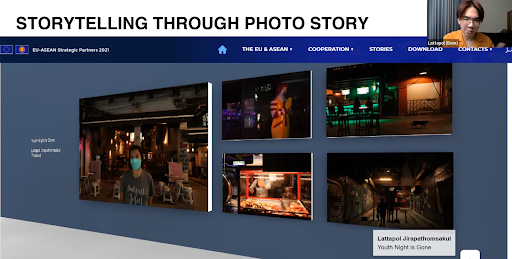 As another example, Lattapol introduces his personal photography project that he took over a period of several weeks in a nightclub area during the lockdown. The photos document the change of the space overtime which sometimes might be so subtle for anyone to recognise. The series aims to call for the attention of the tourism sector on the nightclub business that has been left out during the COVID time.
An individual act of documenting, whether it be photography or film, may not deliver an impact as it lacks platform and distribution to engage with the public and thus create impact. Sometimes photographers or filmmakers alone cannot do it unless they receive support from various stakeholders including but not limited to nonprofits and art organizations. Thus creating partnership and initiative to facilitate photography and film projects is very important to meet the goal of making a social impact at the end.
The difference from an individual act of documenting to public archive is for individual documenting, the photo or video might be not put in a good order or might just be shared privately. To deliver the message to the community, sometimes photographers or filmmakers alone cannot do it, they would need support especially in terms of communication from art organizations. Creating partnerships and initiatives to facilitate photography and film projects is therefore critical to meeting the end goal of making a social impact.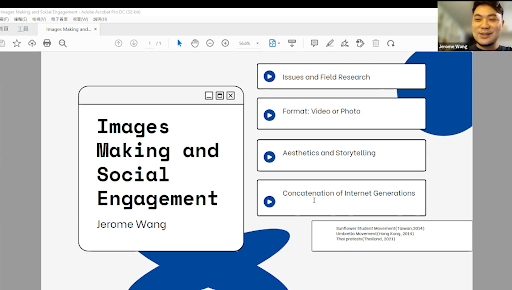 Jerome shared a short video created for a polictical campain in 2010, nine year beofore same-sex marriage became legal in Taiwan. The video speaked out the concern of many people in the LGBIQ about the issues they got with the male and female toilets at the time therefore advocating for legalized the establishment of the gender-free toilet system in the country. After screening the video, he went on sharing experience to conduct a documentary project which aims for social engagement.
Htoo introduces his docufiction short film project about a trishaw driver who saves his earnings to record the songs he composed over the last decade. The short film was largely based on the songwriter's daily life and mixed with 4 fictional characters. For Htoo, docufiction is a genre that tries to transgress and combine fiction and documentary. Following this hybrid form with manipulated fictional script and a real life of one or more characters, try to escape from a familiar film language solely dependent on the aesthetic and the script writing as literature.
All of these projects need long term commitment since social change doesn't happen in an instant, it always needs time to raise people's awareness which will finally lead to the change in attitude and behaviors.
Several weeks prior to the talk, the three REPs created a website where they can share with each other personal views of their society using photos as a medium. Every week one of them will send the photos to the group and others will reply with their photos. Their works, organised week by week and ranging from many different topics, clearly show the documentary nature and tell their own story through visual images. If the project can be maintained for long term, it will become a very interesting archival photography collection on the life of three countries Thailand, Taiwan and Myanmar through the eyes of three photographers/filmmakers.
The event is organized within the Bridge Building Exchange framework, in which each MCH REP is paired up with another REP in another country to conduct activities in order to exchange ideas, expand their networks and knowledge which would benefit their local communities. Follow us for more updates on the next Bridge Building Exchanges.