Call for Proposals: Host a local gathering during MCH Meeting Point 2022 
We are now looking for people, teams, collectives or organizations in Asia who are working at the intersection of art and society and would like to host a local gathering as part of the 2022 Meeting Point, From Connection to Collaboration: Art & Social Action in Asia.
The Local Gathering format was developed in 2021, when we had to change the Meeting Point from a physical event to a hybrid event in response to the conditions of the COVID-19 pandemic. It was one of the most well-received aspects of the program, and we are delighted to continue the format for 2022.
At these local gatherings people can interpret the theme of the Meeting Point in a way that is relevant to their local context, and organize a gathering, talk, workshop or creative action which engages people in connection and exchange. It is up to hosts to interpret the theme and the format in a way that makes sense to them, and MCH is open to creative ideas.
If you are interested in hosting a local gathering, please click the buttons below to learn more:
Important dates:
Deadline for Submission: May 29, 2022

Announcement of Selection: June 8, 2022
Frequently Asked Questions
Please click here to see the questions and answers.
1. Is it possible to hold local gatherings before or after Meeting Point dates?
Answer:
Local gatherings need to be held during Meeting Point dates during October 20th-29th, 2022.
In the proposals, the applicants could put tentative dates of the gathering and they could change and confirm the dates later when they are selected.
2. Is that okay if we arrange Local Gathering as a part of another event with other partners and other supporting organizations?
Answer:
Yes, you are welcome to do so. If your overall event or program is made up of several aspects and Local Gathering would be just one element of it, please let us know clearly in your proposal which part is the Local Gathering.
If you are selected, we would ask you to make sure you credit your local gathering as part of Meeting Point and granted by MCH in the promotional materials. We would like to suggest you also make other partner organizations aware of this in advance.
3. Does it need to be a public gathering?
Answer:
The gathering doesn't need to be public, it can be a closed event or by invitation only if that makes sense for your gathering. It depends on your topic and your target participants.
4. How can all hosts connect each other and be able to share challenges, experiences, promotional strategy etc.?
Answer:
We arrange four preparatory workshops where all hosts can get to know each other and exchange knowledge and practice in small groups. This will be a great opportunity to develop new networks and connections , and we expect the sessions to be useful resources and inspirations for all hosts while they are developing the details of their gatherings.
5. Some of us might be involved in another activity in Meeting Point. How can we host a local gathering? What is your suggestion?
Answer:
If you are already engaged with another activity of the Meeting Point, you still can apply to host a local gathering. If you are concerned about managing your time, we suggest you consider hosting your local gathering on weekdays between October 24th – 27th, 2022 because the plenary sessions hosted by MCH will be Oct 20, 21, 22, 28, and 29.
Please note, when you submit your application you don't have to know the exact date of your gathering. If you prefer to leave it open at this stage, it can be finalized during August 2022, when you will already know the details of any other activity you are undertaking during Meeting Point, and you will have had the opportunity to connect with other gathering hosts, in case you wish to connect or align with any other Local Gathering events.
6. If I hosted a Local Gathering in the last Meeting Point, am I eligible to host another Local Gathering this year?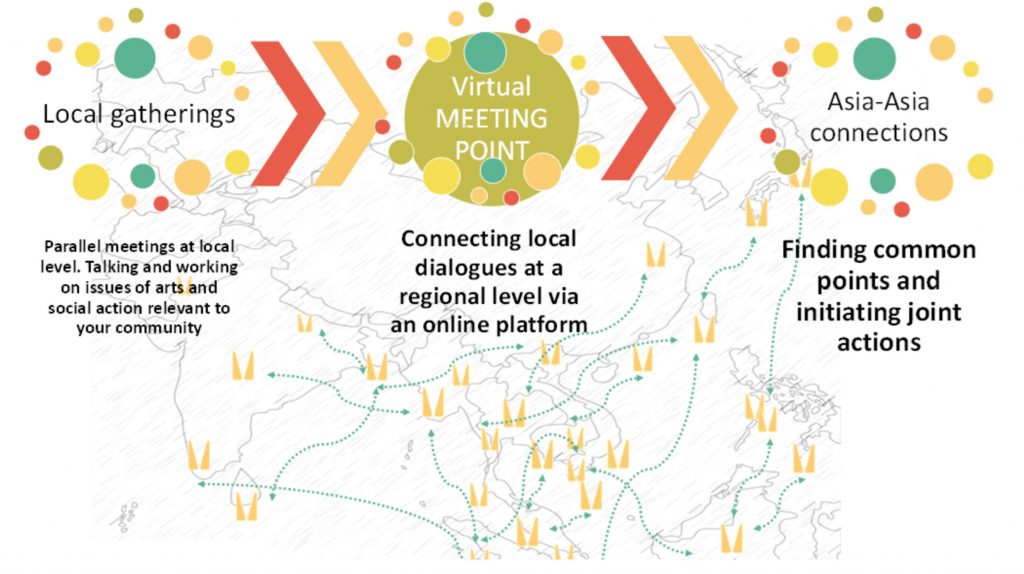 More information
Please click here to learn more about spotlight Local Gathering of Meeting Point 2021

The platform serving to "broker" connections between cultural practitioners working at the intersection of art and society in the Mekong Region and around Asia to:
Dialogues with Mountains: Preserving indigenous culture in Taromak and Kelecung

Caring for the Carers: How Malaysian artists working with communities hold space
For full information of last year's Local Gatherings please visit here.