Delta X Fellows' Key Learnings on 'Enhancing Social Collaboration through Creative Approaches'
Following our previous posts about Delta X and the three curators of the program, today we invite you to meet up with the Delta X Fellows group who work with the topic 'How can we achieve greater social impact in our art projects?' led by curator Pillai Janet. The story below written by guest author Wei Meng Foo shares Key Learnings of 3 Delta X Fellows from 3 Guest Speakers on 'Enhancing Social Collaboration through Creative Approaches'.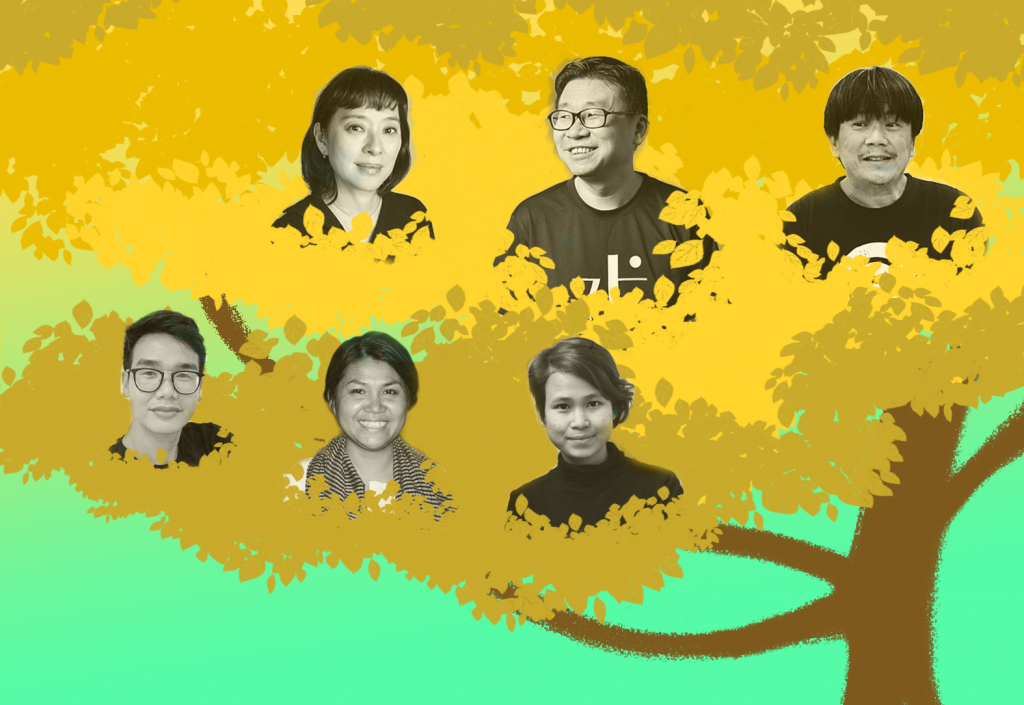 For the past three months (April-June), this focus group consisting of three SEAD alumni—Khin Thethar Latt, Sinath Sous and Thanupon Yindee—have started the conversation on the creative approaches and tools used in enhancing and fostering social collaboration in communities with the program curator Janet Pillai and assistant curator Foo Wei Meng. They also had the great opportunity to gain valuable insights from the sharing and conversation with three very experienced practitioners in the field of socially or community engaged arts—Sumiko Kumakura from Japan, Kok Heng Leun from Singapore, and Vorpoj Osathapiratana from Thailand.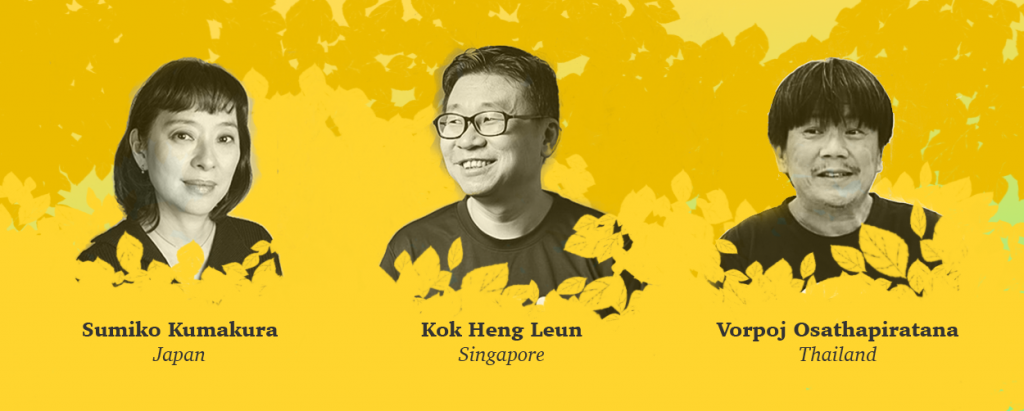 Khin Thethar Latt (Myanmar)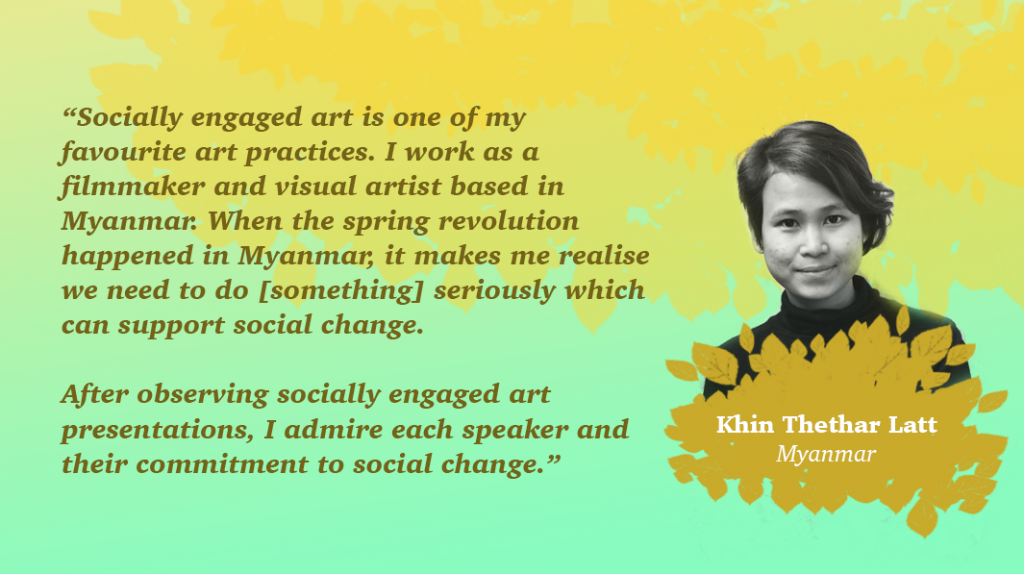 Kok Heng Leun, who is the founder of Drama Box, a theatre company based in Singapore, shared his reflection on the evolving principles of Drama Box's socially engaged practice over the years. Out of the six listed principles, which came in the form of memos, Khin Thethar Latt was most impressed with the '2nd Memo: Dialogues and Vulnerable Listening' and the '6th Memo: When Past, Present and Future Coalesce'. She stated, "That was my first time to learn about vulnerable listening. It makes me keep thinking about how much we need to open ourselves for others".
Sinath Sous (Cambodia)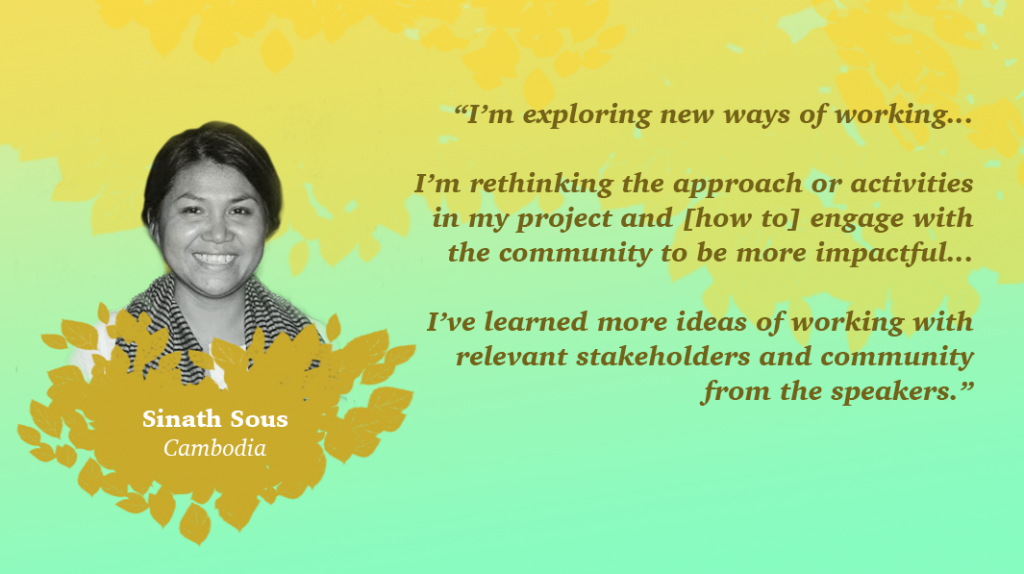 In Sumiko Kumakura's sharing, entitled "An Overview of Art Projects in Japan: A Society that Co-creates with Art", she defined five fundamental characteristics of an art project based on her vast experience working as a producer of numerous regional art projects. Sinath Sous found one of the characteristics mentioned—"Collaboration among people of diverse social background and emphasis on communication to foster such collaboration"—was very useful in relooking into her practice. It reminded her to find better ways to engage and collaborate with her team, volunteers, artists, community, government agencies and relevant NGOs throughout the whole process from planning and preparation to the creative process and final project outputs.
Thanupon Yindee (Thailand)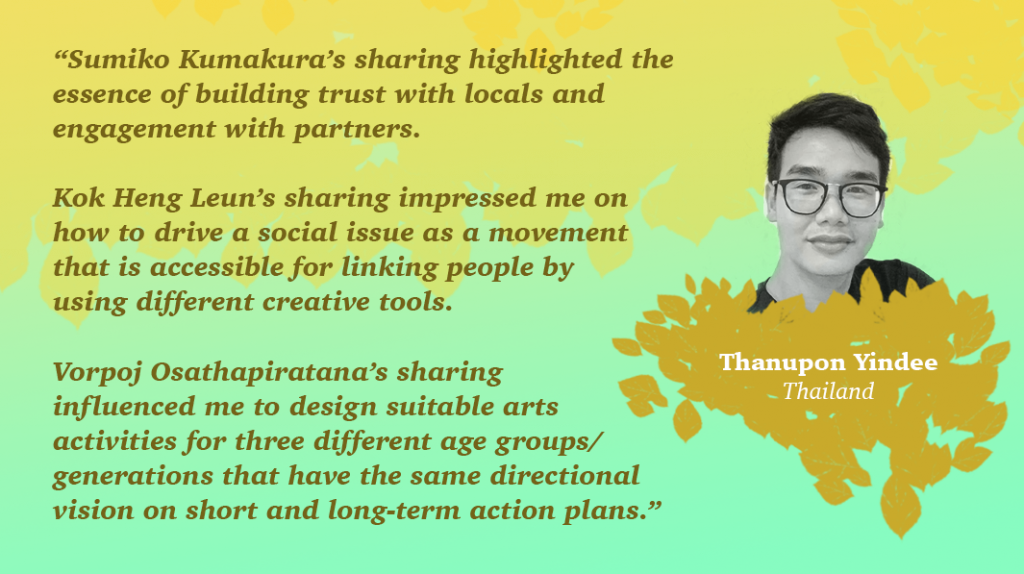 Thanupon Yindee was inspired with the way how the community engaged art project with the Klity villagers shared by Vorpoj Osathapiratana "provoked the community to activate from insiders to insiders and it greatly affected the outsiders", which eventually led to the first state-supervised environmental river clean-up in Thailand. The project exemplifies that arts are tools that can be used to "get to know and dig the problems, collect data, shape the direction, analyse and pin out the points, and present a new hope" for a community.