The 2nd Local Host Networking Session: Thinking about audiences/participants to your event
On Thursday July 28, Local Hosts of the Meeting Point 2022 met for the second time discussing their expectation and experience of audiences/participants to their events.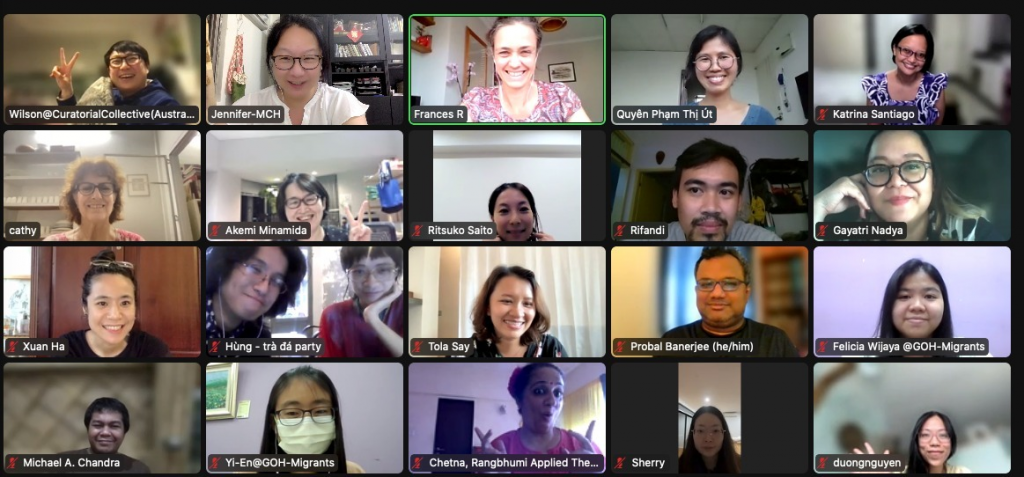 The First Local Host Networking Session brings 23 hosts of 15 Local Gathering to meet each other for the first time where they were divided into 6 smaller groups to get to know each other more and learn briefly about the other practices and what they will do at the Meeting Point 2022. The second Networking Session again grouped Local Hosts into 6 different groups, in which they would meet and discuss with different practitioners whom they had not talked with in the first meeting.
Cathy (Vientiane), Tola (Pursat), Wilson (Huaniao Island + Melbourne) realised the importance of attracting on-site local audiences to their local gatherings event, at the same time wanting to draw attention of online audiences by producing short video clips and photo stories about their activities using social media channel such as Tik Tok. The group came up with an idea to invite "each Local Host to come to another host's event as an observer to see and give their comments."
The discussion expanded beyond just about the audiences/participants. Michael A. Chendra (Jakarta), Xuan Ha (Da Nang), Rifandi (Surabaya) found out they share a common interest in their practice, especially the aim for sustainable development. The discussion made them realise that although there are many different situations between Vietnam and Indonesia for art and social practitioners, most of them have to do at least an additional job to support their artistic practice. "For everything we still have to sell coffee to support our artistic activities," shared Rifandi.
Nadya (Jakarta), in the same group with Ritsuko (Hamamatsu), Roshan Rangbhumi (Mumbai), shared about the lifestyle JogjaJakarta where people can just plan one night ahead  before coming.  When there's longer time to prepare the events is good for the organisers, they could think more detailedly and thoughtful.  The question for organisers to think is when is the most effective time to start the promotion, maybe not necessary the earlier the better. 
The regular Local Host Networking Session prior to Meeting Point 2022 is designed for art and cultural practitioners from different countries and regions to meet and learn about each other. It provides them the opportunity to discuss more about the common and different issues each host is facing in their practice and find out a way to support each other not only in terms of money, but also sharing experience and helpful strategies. Follow us for more updates on the next Local Host Networking Session!