OPEN SPACE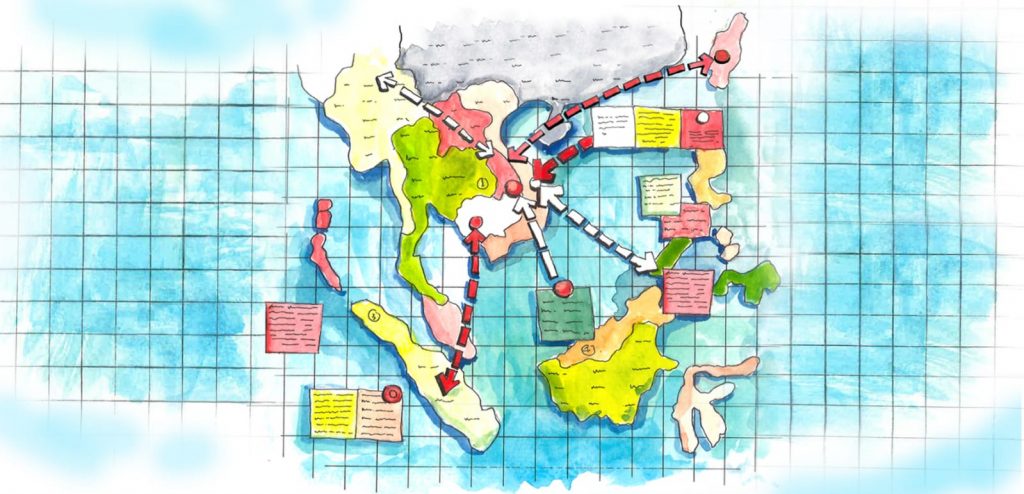 MCH OPEN SPACE is a virtual space offered by MCH to artists and cultural workers to present their work, connect with relevant audiences, expand their network, or reach out to like-minded practitioners in the art and social field across Asia. We open this platform to anyone whose idea is relevant and connected to our network, and within our capacity to provide support including: a virtual meeting space, interpretation capability, inviting people from our networks to participate in the program you want to host.
The platform serving to "broker" connections between cultural practitioners working at the intersection of art and society in the Mekong Region and around Asia to:
Share/exchange knowledge, projects or initiatives

Seek collaboration

Share projects in progress
Taking part in MCH Open Space can provide opportunities to grow your regional network and create potential for peer-to-peer learning.
What we support
☑ Virtual Space: Zoom link (webinar/meeting)
☑ Contribution of up to $300 USD to support interpretation
☑ Promoting your event on MCH's social media platform.
☑ MCH will directly invite members of our network who we think are relevant to your topic
☑ To archive the event and share the discussion content to wider networks and the audience of MCH via blog for post-event.
☑ Other logistics support (please discuss with person in charge from MCH team)
You think this interests you and you have some idea/project fit but not very sure? Just talk to our team at info@mekongculturalhub.org
Eligibility
☑ The event needs to be initiated by cultural practitioners from the Mekong Region and around Asia, with the purpose of connecting with people in the Mekong Region and across Asia.
☑ We need at least 30 working days prior to the event for coordinating all the processes after MCH accepts your request. Therefore, we encourage collaborators to try to contact us (MCH) as early as possible.
☑ Collaborators need to provide information and relevant marketing materials to the MCH team on time.
If you already have concrete ideas and plans for your event and you are interested in collaborating with MCH Open Space, please complete the FORM and then we will contact you for more discussion. Also you are welcome to discuss further with us.
Frequently Asked Questions
Please click here to see the questions and answers.
1. What are the specific criteria MCH will use to evaluate and select proposals for hosting Open Space session?
Answer:
☑ Currently proposals are evaluated on a case-by-case basis when they are received. It is not a competition, where proposals are compared against each other for a set number of spaces. What is important is that the proposal meets the essential criteria below:
=> This online space is for events aiming to build networks or exchange ideas and practices relevant to "art and society" in the Asia region
=> The event needs to be initiated by cultural practitioners from the Mekong Region and around Asia, with the purpose of connecting with people in the Mekong Region and across Asia.
2. Can I use this Open Space platform to support networking and sharing within my country?
Answer:
Open Space is for events aiming to build the regional network (Mekong Region or across Asia), so MCH doesn't currently consider events that only aim at building in-country domestic networks or exchange.
In the past, we have supported an Open Space event that was initially focused on local audiences but evolved to become a regional event, suitable for MCH Open Space. This was because the topic and the content were clearly relevant to a SEA (South East Asia) audience, and the organiser expanded the audience by offering English interpretation to be able to include and engage the SEA audience.
For programs whose aim is for your local community, currently we have an Open Call for people wanting to host a "Local Gathering", which will be a physical event, which should take place in October 2022. The deadline to submit proposals is May 29th, 2022. For more information about the program, please click here.
3. If my partners/collaborators are not from the Mekong/Southeast/Asian region could I apply for this program?
Answer:
If you are from the Mekong/South East Asia/Asian region but your partner/collaborator is not from the region mentioned above, you still can apply if your targeted audience is within Asian region and your program content is related to this region.
Testimonials
We encourage you to organise your event in the language you feel comfortable with and we offer interpretation budget! Please click to the videos below to see what our Collaborators share about MCH Open Space in their own languages.