MCH REPs' first Bi-monthly Meeting: life under lockdown and Creative Actions
From MCH: Three months after the first Annual Meeting in March, MCH team and our Regional Representatives from 5 Mekong regional countries (Cambodia, Laos, Myanmar, Thailand, and Vietnam) and Taiwan had a chance to meet each other as a whole group again. This was the first REPs "bi-monthly meeting" and is designed for each REP to give and get updates on the regional countries, especially the lives and works of their colleagues, as well as the art and cultural activities in the neighboring countries.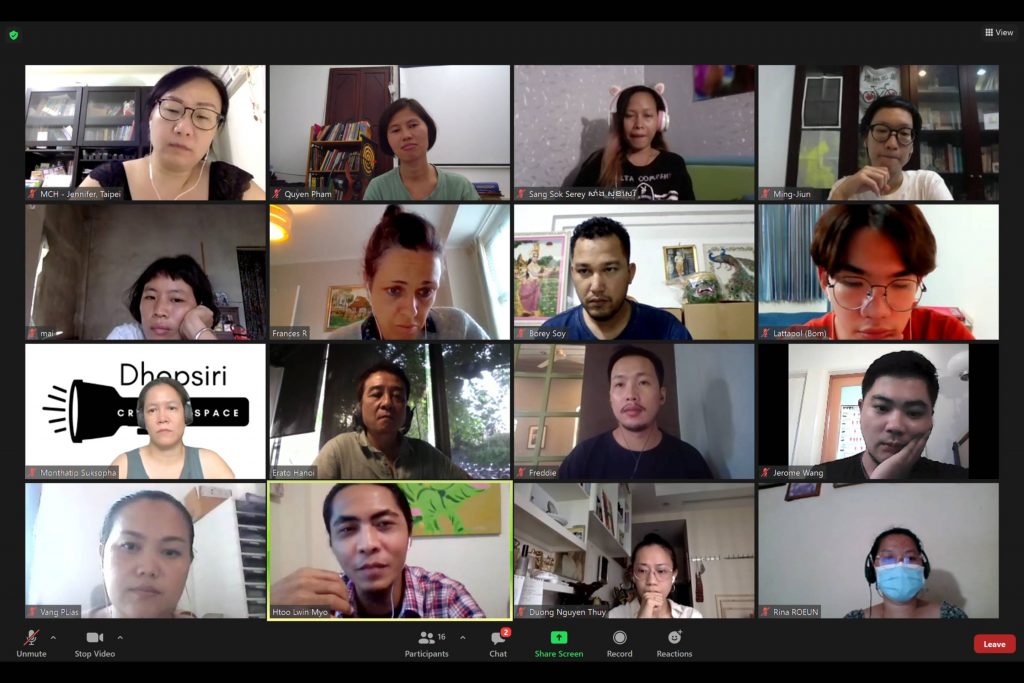 Due to the new waves of COVID that have been sweeping across ASIA including Taiwan and the five Mekong countries since April, the first part of the meeting listened to each REPs sharing about their lives, how to adapt themselves to new COVID waves and elongated lockdown situations in their countries.
Life during COVID is certainly not easy for many people. However, each REP has found their own way to adapt themselves with the situation. As a filmmaker, Jerome from Taiwan makes use of the time in lockdown to enjoy watching films and dramas, which he could rarely do before due to the busy schedule working. Ming-Jiun finds time for cooking and enjoying a healthy life: "I cook three meals a day, and I think if I lost a job as an art curator I can start a restaurant and sell vegetarian foods. If you have a chance to visit Taiwan one day, I will cook for you all." No matter how difficult the situation becomes, it won't stop the REPs from continuing their activities. We are happy for Duong, our REP from Vietnam, to have her works to be featured in two exhibitions in New York and London. And despite the high risk situation that artists in Myanmar are facing, our REP from Yangoon, Htoo, shared about his film to be shown at the Loei Art Fes 2021 in Thailand. Toward the end of the sharing, everyone was looking forward to the post-COVID future when they can visit each other, Ming-Jiun could use the Kitchen at Tran Luong's new art center in Hanoi, the Art Center for Art Patronage and Development – APD – to cook vegetarian food for everyone, while Luong would serve a special kind of wine made from the Hmong's apple.
The second part of the meeting listened to each REPs or REPs group from each country to share about the action they are going to perform during the mini-Meeting Point on July 17th. This is the first time, details of all Creative Action by REPs are revealed fully for Q&A and comments.
Two REPs from Cambodia, Serey and Borey, share their concern for the Cyclo drivers in Phnom Penh. As a common vehicle to serve tourists, in Phnom Penh as well as in many other cities in SEA, cyclo drivers have lost the majority of their customers, and therefore their income during this pandemic. In the REPs action, they will use their own expertise, as a Rap singer and musician for Serey and a Dancer for Borey, to approach the cyclo drivers in the city, talk with them, and invite them to take part in their art. The activity aims to reveal the context in which their lives are being affected by COVID, what they are experiencing and how they feel and think. Their action will be recorded and made into a video to be shown on July 17th.
The Creative Action of Freddy, one of MCH REPs in Laos addresses one of the most threatening environmental issues in the world today: the plastic garbage produced in our daily life, especially in belief, ritual related activities. To raise awareness of his local people in reducing plastic uses, Freddy will create activities in collaboration with the master monks at local temples in Luang Prabang. Local people will be invited to take part in such activities to experience and be motivated not to use plastic by using alternative materials from nature such as banana, lotus, coconut leaves or bamboo tree. Video and photo documents of the activities will be posted on @Town of Luang Prabang We Want Facebook page and his own website. The activity also aims to promote handicrafts in the village and preservation of authenticity of cultural heritage.
The Creative Action by another REP from Laos, Pia, will reveal the context of the Hmong people in Laos and their old custom of kidnapping women to be wife which is considered a harmful tradition in modern life. During her action, two groups of 5 women and 5 men will be invited to take part in a workshop, in which they will watch together a documentary of the bride kidnapping custom and discuss the ways to save girls and women from this tradition. A video summarizing the workshop will be produced and broadcasted during from July 17 on Facebook and YouTube.
Ming-Jiun & Jerome from Taiwan join each other in a two part Creative Action call "Making Connection". By inviting participant to take a "Speed Quiz" and send raw footages of themselves making/buying their own drink, the action will reveal interesting facts about Taiwan, the Mekong regions and each other. Recordings of the two part action will be merged into one short video about 10mins long and screened at the mini-Meeting Point on July 17th.
Two MCH REPs from Thailand, Tip and Lattapol are preparing for a very busy schedule action which will take place from early July to the 17th. The action aims to experience the multidisciplinary art working process by inviting over 50 Thai artists in different fields from different generations to create work from different points of view on the theme of hope in freedom through reading the same book "A Craft or A Hedge". The book based on the true story of a Thai political hero during the student revolution 1973, illustrated in 2000 by Dhepsiri Sooksopa, Thailand's National Artist, is still relevant to the current situation of the country. It is thus interesting to see how different artists will respond to the book in a personal way of a freely working condition with the context of the current situation.
MCH REP from Vietnam, Duong will invite people to take part in her online walking tour which reveal the life and character of Lộc Vàng, an amateur singer in Hanoi who was imprisoned by the government for singing Yellow music and well as the context of her home city Hanoi.
While another REP from Vietnam, Mai, will invite you on a 30-minute online walking tour along the Bo Thanh area, Hue city, Vietnam. There are 4000 family will be relocated from the Citadel wall in 2019 – 2025. The trip will visit in improvisation some families and their vegetable gardens to listen to their condition and expectations in this relocation.
———-
REPs bi-monthly meeting is designed for the REPs to meet each other every two months and keep each other up to date with news about themselves and the local arts and culture community within their activities or interests. Stay tuned for updates of our next bi-monthly meeting to take place in late August.
If you are interested in joining the Creative Action by Reps, please check out our mini-Meeting Point webpage for the timetable of all Asia-Asia Connections accessible online, and full information on each Creative Action including those taking place in person in the Programs section.