COVID Time Capsule
INVITATION
The present
before we can react
becomes the past.

Abbas Kiarostami
Is there something about COVID you don't want to forget? Is there a memory associated with an object, image, video, song, film, exhibition that you would like to share with future generations? Would you like to tell us the story of why it holds great personal or professional significance for you?
You are invited to contribute an object and the story it tells us about your enduring memory of the pandemic.
ABOUT THE PROJECT
We're inviting artists and other people associated with the arts from different parts of Asia and the world to contribute objects which will go into our virtual COVID Time Capsule.
All accepted submissions (images, video or audio recordings; no real objects will be collected) will be compiled and uploaded on this website which will be open to contributions until 31st Oct 2022.
Some of the objects collected for the COVID Time Capsule will be presented twice at Mekong Cultural Hub's Meeting Point on 22nd and 29th Oct 2022. The online COVID Time Capsule will remain
accessible for viewing on the Mekong Cultural Hub website after the Meeting Point.
---
OBJECT GALLERY
Watch the videos of the objects placed in the COVID Time Capsule by the four artists who conceived this project, and hear their stories.
---
SUBMIT YOUR OBJECTS
Are you interested in adding your object(s) to the COVID Time Capsule? We receive objects from 20th Sep 2022 till 31st Oct 2022!
HOW TO SUBMIT?
Consider the following questions to trigger your choice of objects and connected stories:
· Something that might not have happened if not for COVID?
· Something that holds special memories to tell your grandchildren about?
· Something unusual that you believe COVID reveals?
· Something you may want to retain after COVID?
· Something that is deeply meaningful to you and you don't want to forget?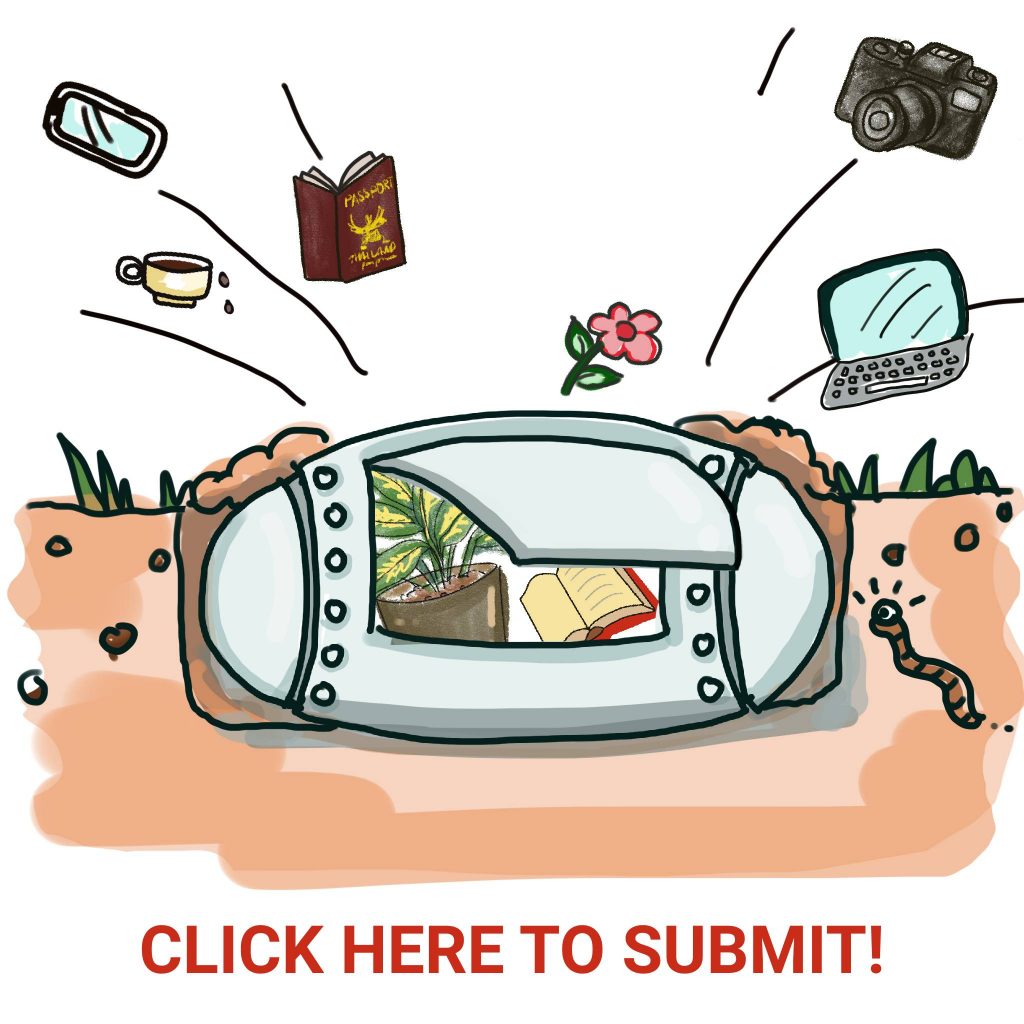 ---
MEET THE TEAM
If you have any questions regarding this project or your submission, you can contact us at
covidcapsule2022@gmail.com
---
RELATED NEWS